Blue Badge Permit 'Shocking Disparity' Revealed
January 7, 2021
People with non-visible disabilities such as autism or Parkinson's disease face a "shocking disparity" when applying for a blue badge parking permit, a BBC investigation has found.
Scores of councils have lower approval rates for non-visible disabilities applications compared to those for physical impairments.
Non-visible disability applications began in England in August 2019.
The Department for Transport (DfT) said it would review their impact.
Applications for people with cognitive impairments were already considered in Scotland, Wales and Northern Ireland.
'Devastating impact'
The BBC Shared Data Unit obtained Freedom of Information Act (FOI) responses from the 216 upper-tier councils across the UK.
Of the 109 councils who gave full responses, eight out of 10 had higher approval rates for people with physical impairments. For ten of those councils, the difference was greater than 50 percentage points.
James Taylor, from the disability charity Scope, said: "This new data shows a shocking disparity between the allocations of blue badges to people with invisible and visible impairments.
"Councils need to understand the devastating impact their negative decision can have."
The National Autistic Society said the results showed how important it was for councils to improve training to ensure staff understood when people should be entitled to a "lifeline" blue badge.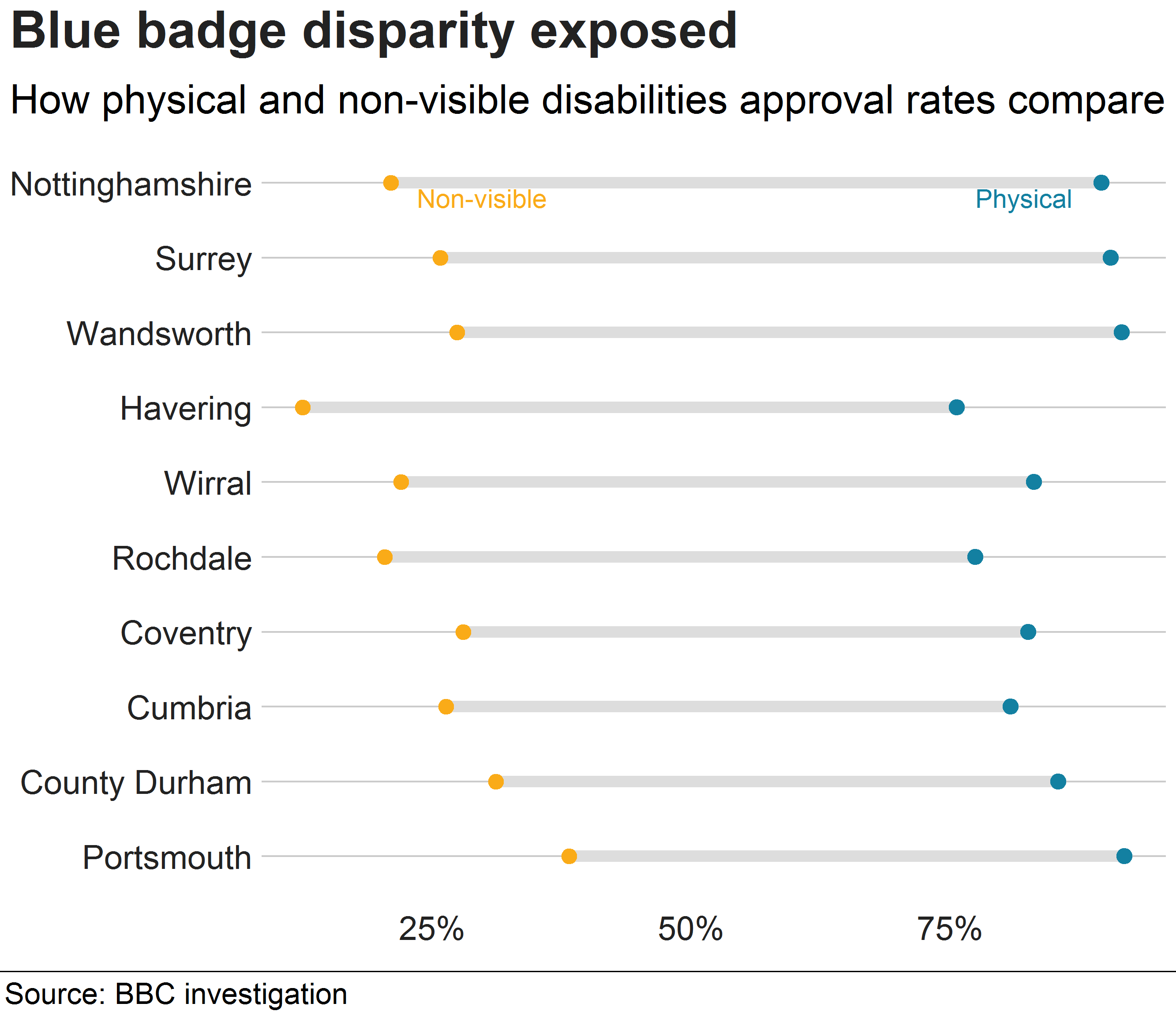 How was the scheme extended?
Blue badge permits help disabled people to access goods and services, by allowing them to park close to their destination.
The new rules, described as "the biggest change to the scheme in nearly 50 years" when introduced by the Transport Secretary Grant Shapps, widened the eligibility criteria to ensure people with non-visible disabilities were not disadvantaged.
The scheme was changed to include disabilities such as autism, dementia and anxiety.
'I found it very difficult'
Former magistrates' court manager Michelle Woodward, who has relapsing remitting multiple sclerosis (MS), had her application for a blue badge and an appeal refused by Oxfordshire County Council in February 2019 before non-visible disabilities applications were introduced.
"It was outrageous at first," she said.
"Someone must have said to me it would be straight forward, otherwise I wouldn't have put myself through that stress.
"When I originally applied the guidance said not to mention any toilet issues.
"This was impossible for me because MS has affected my bladder as well as my walking and endurance.
"So when I hit the send button of my online application I instantly received a refusal email."
She could not re-apply for six months but when she did, she successfully did so under the new guidance.
She said: "I found it very difficult navigating the whole online application system.
"Unfortunately, MS affects your brain power. So I had trouble working my way round the form, trying to attach it. Sometimes I have to get my husband to do it.
"It's not friendly.
"How many disabled customers are the shops losing because we can't we can't use them?
"I feel like I'm not being incorporated with the town. I've lived in Oxford for two years but I can't really familiarise myself with the city.
"There are people worse off than me, how do they cope?"

Tim Nicholls, head of policy and public affairs at the National Autistic Society, said: "These figures highlight the postcode lottery that has developed around blue badges.
"This must change. Getting a blue badge when you need one shouldn't depend on where you live."
The removal of accessible parking bays next to shops and amenities "overnight, without any consultation" to allow for social distancing during the Covid-19 pandemic had also had a "massive impact" on disabled people, Scope said.
The DfT said its review of the new criteria would include considering feedback from users of the online application service.
But people who had applied online told the BBC of the "trauma" of having to produce evidence of their disabilities to be scrutinised, and the difficulty of completing the form. In addition, they spoke of their reluctance to send original personal identity documents such as birth certificates in the post.
Mr Nicholls said a blue badge could facilitate journeys with a carer for someone with autism who may not be able to understand or react to the dangers of the road.
The permit could also help someone with autism overcome their anxiety over not finding a parking space or things going wrong on a trip, which could stop them from leaving the house entirely, he said.
What do councils say?
Councils with the largest disparity between approval rates said they had followed government guidance and helped applicants provide supporting medical evidence.
Councillor David Renard, transport spokesperson for the Local Government Association, which represents councils' interests, said local authorities wanted to make sure services and communities were as accessible as possible.
About 2.3 million disabled people in England have a blue badge, according to latest data.
Some 28,000 blue badges were issued to people with non-visible disabilities in England in the first 12 months, our investigation found.