Who's Exempt From Wearing Masks?
January 19, 2021
"My heart races, I get really hot and start sweating, I start shaking, all the noise in the shop seems to get louder and the lights seem to get brighter."
That's how it feels when Georgina Spray puts on a face covering.
The 21-year-old has autism and is exempt from wearing one. But she's so worried about being confronted, she chooses to put one on anyway.
The problem for Georgina is there's still no official way of proving you're exempt.
Face coverings are compulsory in almost all public indoor areas across the UK.
And with many of the big supermarkets saying they'll deny entry to people who don't wear masks unless there's a genuine reason, Georgina worries the chance of abuse rises.
So, who counts as 'exempt'?
The list is long and fairly vague. Around the UK advice is slightly different but in general, if you can't put one on or wear one due to an illness, impairment or disability, you don't have to.
You're also exempt if they're likely to cause you "severe distress".
The problem is, it isn't easy to tell if someone's exempt just by looking at them – and that's where confrontations can happen.
Last year, a number of mental health and disability charities wrote to the Government in England, asking ministers to provide a "recognised badge [or] identifier to signify the wearer as exempt".
That hasn't happened. Instead, there are templates you can print off, depending on where you live.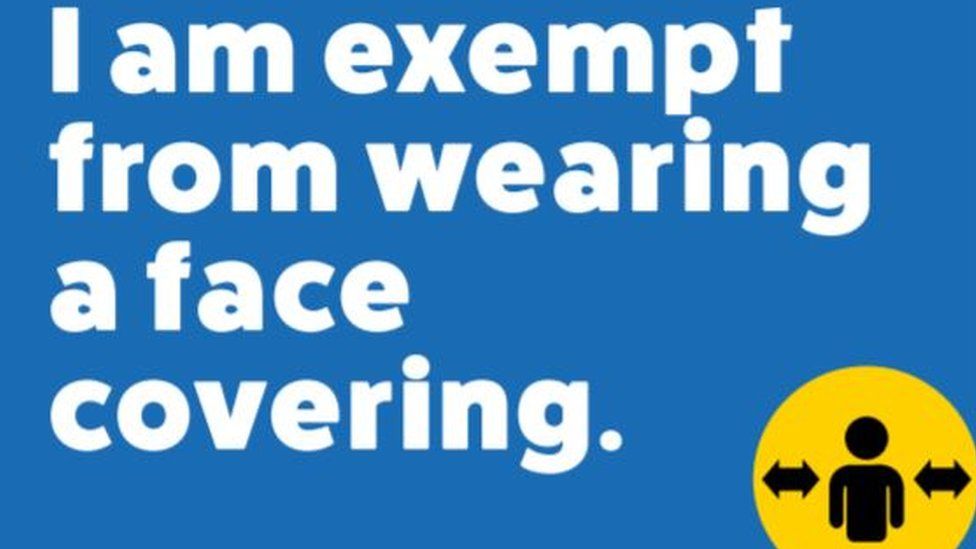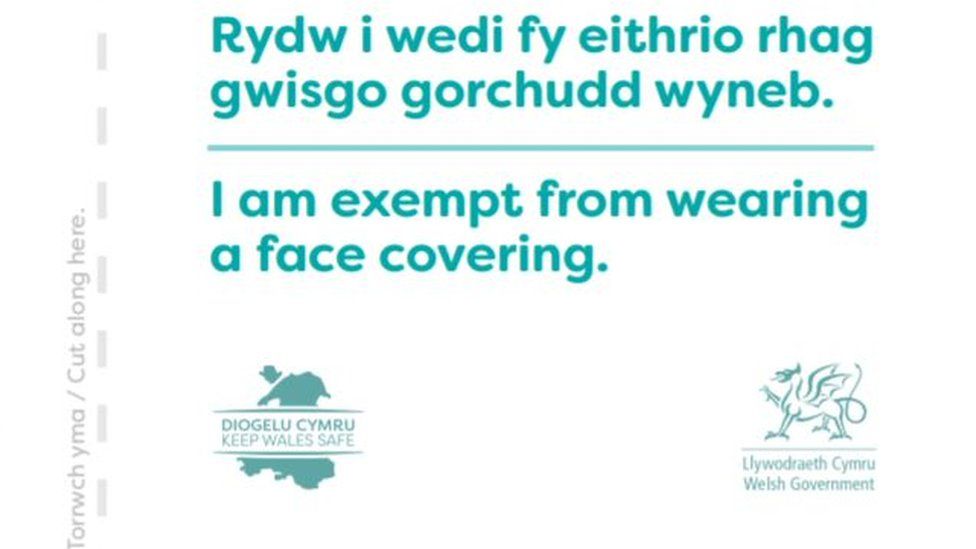 "I have a few sensory problems," Georgina tells Radio 1 Newsbeat.
"It is stressful enough going into a shop when you have autism – with the background music, beeps of the till, customer announcements, people talking, bright lights, humming of the fridges and freezers. Adding a face covering is too much for many autistic people to bear."
She's glad shops are clamping down but worries about being mixed up with people who are "determined to break the rules" and lie about being exempt.
"I don't carry my diagnosis letter and assessment scores around with me and people often say to me, 'You don't look disabled'."
Georgina's seen videos online of people without masks being abused by others – and says the possibility of that happening to her is worse than having to wear a mask.
"I know I wouldn't be able to stand up for myself."

Drew Miller Hyndman, disability reporter BBC Ouch
Not having to wear a mask might seem like a privilege to those of us made to wear them, but exempt people feel understandably anxious about being less protected when going out.
On top of the risk of catching the virus, some have faced abuse in public and the vague guidance on who is and isn't exempt hasn't helped.
Victims of this abuse have called upon the government to recognise the sunflower lanyard as a clear way to signal that a person is exempt.
The lanyards were originally created for people with invisible disabilities to signal their impairment but the charity that makes them recently created a mask exempt version after a surge in popularity.
Ultimately, the new supermarket crackdown could stop members of the public taking the rules into their own hands, since staff are now checking at the door.
However, mask exempt people may now find themselves repeatedly explaining their exemption each time they go out.
Our readers have recommended anyone facing abuse for not wearing a mask when exempt should walk away and find shop staff.

Unlike the disability Blue Badge scheme, you don't have to prove you're exempt from face coverings – and there's no legal requirement to carry an exemption card.
Until there's something more official, Georgina will carry on wearing one, despite the distress it causes.
"If I was confronted, I'd probably be awake all night replaying the situation in my head and what I should have said or done differently.
"If I went through a situation like this my anxiety would be so high that I'd be scared to leave the house."