CBD Gummies Online Scam Costs Disabled People Millions
February 23, 2022
Online subscription scams, many using bogus celebrity endorsements, are costing victims tens of millions of pounds a year, a BBC Radio 4 File on 4 programme investigation has found.
Some 300,000 people a year are thought to have been tricked into the schemes, many seemingly backed by celebrities such as comedian Russell Brand.
But in reality, the celebrities have never even heard of the products.
Many of the scams lure victims in with fake adverts on Facebook.
File on 4 found more than 800 on the social-networking site.
Facebook says it has now taken down most of the pages – adding that using public figures to scam people out of money is against its policy.
Desperate to ease the fibromyalgia caused by a childhood accident – and feeling let down by doctors who dismissed her widespread pain as a symptom of depression rather than the other way round – Louisa Dyson, 40, from Doncaster, went online to find an alternative remedy.
On Facebook, she saw what she thought was a MailOnline article featuring Brand talking about the benefit of CBD gummies – a jellied sweet containing cannabidiol, found in cannabis, which some users say helps aches and pains.
"It was a really well written article," Louisa told File On 4.
"I could hear him talking while I was reading it and then got to the end and there were these people talking about these gummies.
"They were noticing results within a week."
'Overwhelming panic'
But what she thought was a £38.99 "buy one get one free" offer on two bags of "Green CBD gummies" turned out to be a £148 payment.
"I felt that sort of overwhelming panic," Louisa said.
"I felt hot and a bit fizzy and thought, 'Oh God, what if it's not just this £148?
"'How do I know that overnight more is not just going to go, 'Ka-ching, ka-ching, ka-ching, ka-ching,' out of my account?'"
'Huge amounts'
Louisa could not get her money back but her bank stopped any more being taken from her account.
However, many are not so fortunate.
File on 4 has spoken to 20 victims of this scam alone.
One had money taken from her bank account for several months without knowing.
Another was unable to leave their house for weeks because of the stress.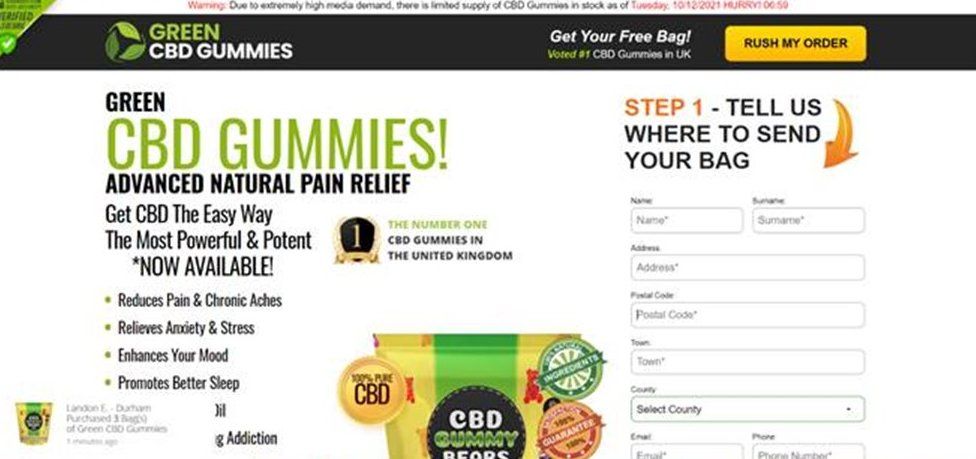 "In the UK, there are in the region of 300,000 victims per year and they are losing on average around £250 – that puts it into the [region of a] £75m-a-year loss to UK victims," fraud investigator Gillian Schonrock, who has spent the past five years looking into online subscription scams, said.
"We're not talking here about the odd fraudster who has managed to set up one small scheme here, we're talking about thousands of scammers and huge amounts of money.
"On a global scale, we're talking $1bn [£0.7bn] a year or more."
'Being conned'
The CBD gummies Louisa bought online were also advertised on Facebook using a host of other fake endorsements by celebrities, including journalist and television presenter Dame Esther Rantzen.
"I loathe them incorporating my name and therefore, if you like, my reputation to sell their products, which I know nothing about," Dame Esther said.
"It really is so anger making, now I feel helpless and I'm being conned myself.
"Facebook has an obligation whether they like it or not.
"Someone's got to make Facebook responsible and make them police the material they carry."
Louisa is now more cautious about what she buys online but knows such scams will continue to prey on vulnerable victims.
"There are people that are in a really dire situation and for somebody to do this to other people at the level they're clearly doing it, they're not nice people," she said.
"They're cashing in on people who are struggling.
"It's absolutely disgusting."