Property Site Listings Exclude Renters On Benefits
December 18, 2020
Leading UK property websites are hosting rental listings that may unlawfully discriminate against people who claim benefits, a BBC investigation has found.
The majority of adverts on SpareRoom and OpenRent say people on benefits will not be considered as tenants.
"It's very demoralising," said Emma, a single mother from London. "Everyone deserves housing."
The rental platforms said they were working to address the issues.
In July, a judge ruled that blanket bans on renting properties to benefits claimants are unlawful and discriminatory, breaking the 2010 Equality Act on grounds of sex and disability.
But the practice is still widespread on SpareRoom and OpenRent. More than 80% of 59,000 listings we analysed on these websites were not open to benefits claimants.
Both platforms currently offer landlords a tick-box option to exclude people on benefits, although SpareRoom plans to remove the option.
'Painful problem'
Other websites have policies to remove discriminatory wording from adverts. This includes language such as "professionals only", "no housing benefit" or "no DSS", a reference to the old Department of Social Security.
Fewer than 1% of 335,000 listings we analysed on Zoopla and Rightmove contained such phrases.
However, the BBC found thousands of listings on these websites that seemed open to benefits claimants, where the same property advertised on OpenRent did exclude them.
OpenRent founder Adam Hyslop said: "We know that access to suitable properties for benefit claimants is a real and painful problem, and we want to solve the root causes of these issues.
"We've raised these issues in Parliament and with industry lobby groups and are working hard to address the root causes – as well as trying to combat prejudice by educating OpenRent users.
"OpenRent does not ban any group of tenants, and in the past year we have let over 25,000 properties where applications from benefit claimants were explicitly welcomed by the landlord."
SpareRoom director Matt Hutchinson said: "After the July ruling we changed the way SpareRoom works, so landlords can only list rooms as unavailable to benefit claimants if their mortgage or insurance specifically forbid it. However, we've seen far more rooms still being listed as unavailable than the small number we expected.
"The reality is that there are almost no buy to let mortgages left with those clauses in them, so we're currently in the process of removing the option to list as unavailable to benefit claimants completely."
'It's very traumatising'
Emma lives in a privately rented one-bedroom flat with her son. "I pay my rent on time every month," she said, "I have references to prove that as well as a guarantor."
Despite this, she has been unable to find a larger flat for two years. "I'm in receipt of benefits, so landlords won't take [me]." she explained. "They'll gaslight you, ignore you."
Her housing situation has taken a toll on her mental health and stress levels. "It's made me quite angry," she said. "It's very traumatising."
Emma said landlords should not assume that benefit claimants will be unreliable tenants. "In this economy, my benefits are more stable than your job," she added.
Since the start of the coronavirus pandemic, the number of households in Great Britain in receipt of the Housing Entitlement of Universal Credit grew 62% to 1.2 million, according to the Department for Work and Pensions. A further 746,314 private renters claim Housing Benefit.
'Constant hurdle'
Recent housing statistics gathered from official sources by Shelter show women and disabled people are disproportionally affected by policies that ban benefits claimants.
Disabled households are almost three times as likely to use Housing Benefit as non-disabled households.
Women in the private rented sector are more than 1.5 times more likely to receive Housing Benefit than men.
One man, who asked to remain anonymous, said: "DSS discrimination has been a constant hurdle in me even being able to secure a viewing."
The 49-year-old, who has learning disabilities and mental health problems, is in receipt of Housing Benefit, Employment and Support Allowance and Disability Living Allowance.
"As soon as I tell the letting agents that I'm not able to work as I'm disabled, either I don't hear back from them at all or I phone them up and they tell me the person I need to speak to isn't available," he said.
Polly Neate, chief executive of housing charity Shelter, said: "Property portals should be reminding landlords and letting agents of their duty not to discriminate – they should not be contributing to the problem."
Otherwise, she said, landlords and agents risk serious legal action.
She said insurance policies covering landlords who rented to housing benefit tenants were easily available and that all major lenders had removed their "no DSS" clauses, including from historic contracts.
A survey conducted by YouGov on behalf of Shelter suggests that landlords' main reasons for not letting to benefits claimants include "I do not want to let to this type of person or household" and "my letting agent advised against it".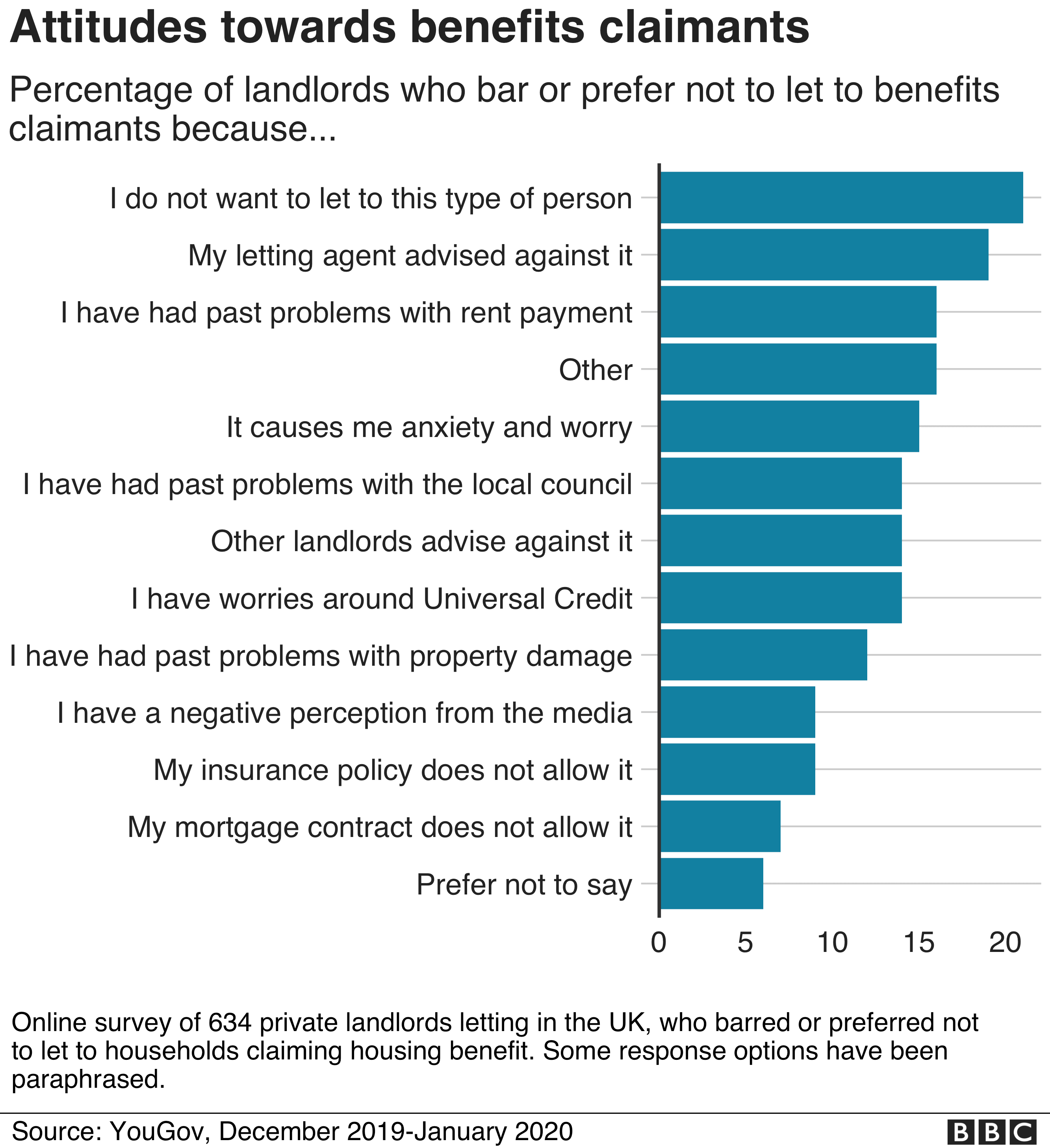 Zoopla said: "While we are happy that the BBC's research showed over 99% of our listings are compliant we recognise even one listing with discriminatory wording is too much. We are constantly updating our systems to ensure any attempts by agents to circumvent our rules are caught and, while we have made strong progress on this, the process is ongoing.
"Any agent we do find attempting to breach our rules on this can face a variety of sanctions including the removal of their ability to list properties on our site."
A Rightmove spokesperson said "We believe that all prospective tenants should have equal access to the widest possible selection of properties possible irrespective of how their rent is paid."
Methods
We analysed over 300,000 rental listings across Great Britain that were advertised between the 1st and 15th of December.
On OpenRent and SpareRoom, discriminatory listings were identified by a tick box option that excludes people on benefits from renting a property.
On Zoopla and Rightmove, we searched for language such as "no housing benefits" and "No DSS", using a list obtained from Shelter.