Sarah Storey Wins 17th Gold To Become Britain's Most Successful Paralympian
September 2, 2021
Sarah Storey won her 17th Paralympic gold to become Great Britain's most successful Paralympian of all time.
The 43-year-old defended the women's C4-5 road race title she has held since London 2012 to put her one gold ahead of previous record holder Mike Kenny.
Britain's Crystal Lane-Wright finished seven seconds behind to take silver.
It was a GB one-two in the men's C1-3 race too, Ben Watson winning his second gold with Fin Graham claiming silver in atrocious conditions in Tokyo.
"I'm a bit overwhelmed, I feel like it's happening to someone else," Storey told Channel 4.
"I can't really explain or compute anything about the race, but crossing the line first felt so good."
Storey's gold was her third of this Paralympics, which is her eighth Games since making her debut in Barcelona in 1992 as a 14-year-old swimmer.
She won the individual pursuit on the track before claiming time-trial gold to equal Kenny's record.
Storey now has 28 Paralympic medals in total and has not won anything except gold since making her cycling Paralympic debut at Beijing 2008.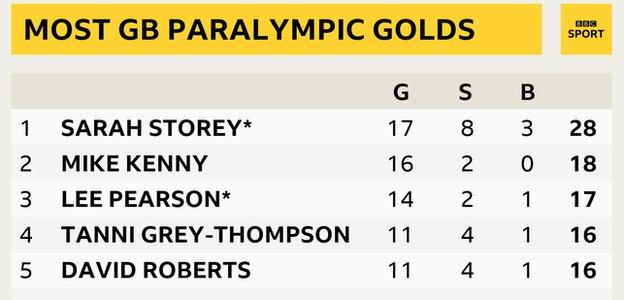 Familiar conditions as Storey powers to title
In weather more akin to her home near Manchester, with rain and thick fog making visibility difficult at the start, Storey was in the front pack from the off, alongside Lane-Wright.
The British pair allowed German Kerstin Brachtendorf to make a breakaway towards the end of the second of the six laps and the 49-year-old clocked a 25-second lead at the checkpoint.
She extended that advantage to more than a minute at the halfway stage, with Storey leading the chasing group and Lane-Wright constantly on her wheel.
As the rain got even heavier they were unable to reel Brachtendorf in, the gap opening up by another 10 seconds after four laps.
But Lane-Wright hit the front of the chasers with a significant injection of pace and her burst made all the difference as the pack quickly caught up with Brachtendorf to leave five riders in contention for the medals at the end of the penultimate lap.
It was at this point that the British duo found another gear, Lane-Wright and Storey breaking away to open up a comfortable lead coming into the finish on the Fuji International Speedway circuit.
Storey punched the air in celebration as she crossed the line in two hours, 21 minutes and 51 seconds.
France's Marie Patouillet took bronze, almost two minutes after Storey finished, with early pace-setter Brachtendorf fifth.
"I don't know if it's sunk in. It's something everyone has been talking about since Rio when it became a mathematical possibility with me doing three more events in Tokyo," Storey told BBC Radio 5 Live's Paralympic Breakfast.
"But you can't take anything for granted and although I knew I had the capability to shut down the gap to Kerstin, when your legs don't feel as good as they have done in the time trial and then the individual pursuit, then you think today is not my day.
"It's one of those situations where I don't know whether it will sink in when I get home, or whether it will be in a few months or even never at all.
"I just feel immensely proud and also immensely grateful to have so much support and to have such a great team around me and also a great team back at home. They're the ones who are able to make this possible, by putting me on the start line in a position to go for it, so I'm a little bit lost for words in many ways."https://emp.bbc.co.uk/emp/SMPj/2.43.7/iframe.htmlTokyo Paralympics: Sarah Storey and her family react to her record-breaking 17th gold
'There are times when I think, 'what would Sarah do?"
Lane-Wright's silver was her third in Tokyo, having finished second to Storey in all three races.
The 35-year-old, who has five Paralympic medals in total, hinted this would be her last Games and was very aware of the historic nature of the race.
"I said 'this is your gold medal'. You don't have to worry, I'm not even going to attempt to take it away from you," Lane-Wright said.
"This is part of history now. And I didn't have the legs, she went so hard. It's easy for me to now say I gave it to her, but she won that fair and square.
"Gold medals aren't the only thing that define it, you also have to look at her as a professional. And even if she'd won silver today, she is still one of the greatest athletes we will ever have.
"I've piggy-backed on that because I'm in the same category and now on the same podium. There are times when I think, 'what would Sarah do?'. She inspires me that much."
'You could see the drive at 14'
Baroness Grey-Thompson, who won 11 Paralympic gold medals for Great Britain, speaking to BBC Breakfast
Sarah is incredible. She's very humble, very laid-back about her performances. Cycling, and sport, is her life and it's her family's life.
She's one of those athletes who is dedicated, trains incredibly hard, and has that ability to push to herself.
Some of these races she could win in a different way – a slightly easier way – sometimes, but every time she's on the start line she just gives 100%. It is amazing to watch her give so much of herself.
I first met her when she was 14 in Barcelona, and even at that age, you could see the drive she had.
I tease her slightly that swimming was just her preparation for cycling – it was an amazing base programme for her. If she hadn't had an ear infection, and she hadn't started cross-training on a bike, who knows where her sporting career might have gone?
She is one of those people who could probably go into any sport, but it's been incredible to watch that journey.